The Nintendo 3DS is one of the most popular handheld gaming consoles ever.
It has an amazing library of games that are loved by millions of gamers worldwide.
However, not everyone can afford a 3DS or wants to carry around a separate gaming device. This is where 3DS emulators for PC come in.
3DS emulators allow you to play all your favorite 3DS games right on your computer.
You don't need to buy an actual 3DS console. All you need is a good PC and the right emulator software.
In this guide, we will cover everything you need to know about 3DS emulators for PC.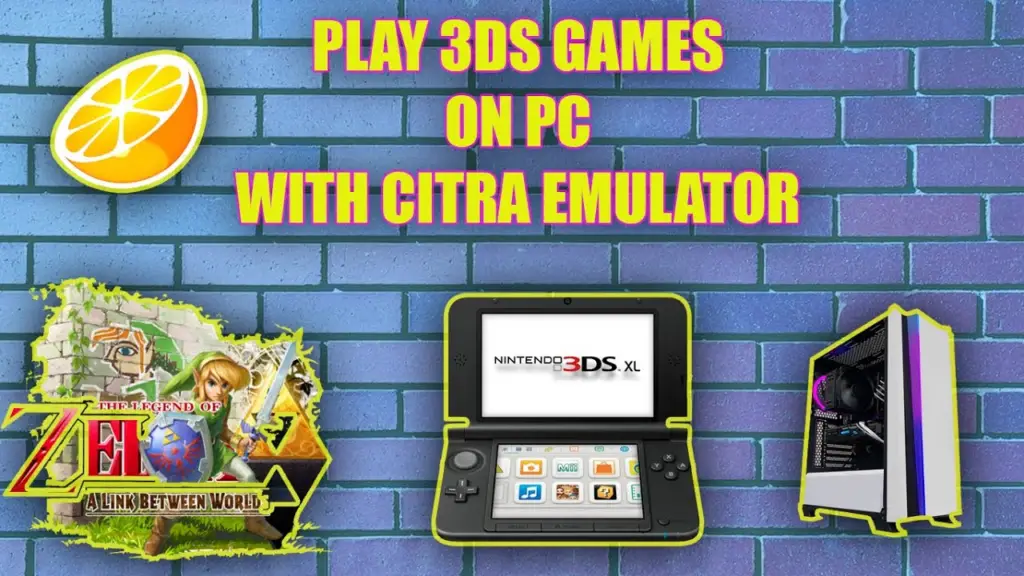 What is a 3DS Emulator?
A 3DS emulator is a software program that mimics the hardware and operating system of a real 3DS console on your PC.
It lets your computer run 3DS game files (.3DS, .CCI, .CFI, .3DZ, .CIA) and play them just like on the real console.
In simple words, a 3DS emulator is like a virtual 3DS that runs on your Windows PC, Mac, Linux computer.
It allows you to play all the amazing 3DS games without needing the actual handheld.
Some of the most popular 3DS emulators for PC include:
Citra
DeSmuME
No$GBA
TronDS
NeonDS
These emulators recreate the experience of a 3DS system quite accurately.
You can run commercial 3DS game dumps as well as homebrew software and games made for hacked 3DS consoles.
How Do 3DS Emulators Work on PC?
3DS emulators work by imitating the hardware and features of a real 3DS portable console. Here's a quick explanation of how they work:
The emulator software mimics the ARM processors of the 3DS by using the processing power of your PC. This allows 3DS games and apps to run.
It implements the 3DS Operating System and firmware features in software code. This recreates system-level functions.
The emulator has built-in emulated screens that render the dual screens of the 3DS. This allows the top and bottom screens to be displayed properly on your computer screen.
It emulates the sound processors of the 3DS, allowing 3DS music and audio to play properly.
The emulator allows 3DS controller input to be mapped to keys on your PC keyboard or gamepad. This enables gameplay control.
Additional features like mic input, cameras, gyroscope, StreetPass and WiFi connectivity are also emulated to mimic the real experience.
In essence, the emulator tries to recreate the complete 3DS experience on your PC with software and hardware capabilities.
This allows you to enjoy 3DS games just like you would on the actual console.
Benefits of Using a 3DS Emulator on PC
Here are some of the biggest benefits of using 3DS emulator software on your Windows, Mac or Linux PC:
1. Play Thousands of 3DS Games for Free
The best part is that you can play your favorite 3DS games for free after getting the emulator.
There are over 1,000 3DS games spanning various genres like Pokemon, Zelda, Mario, RPGs, platformers, simulators and more.
2. Upscale Graphics and Resolution
You can play 3DS games at higher resolutions like 1080p or 4K when upscaled through the emulator.
This makes them look crisper than on the small 3DS screens.
3. Save Game State Anytime
3DS emulators allow you to save the state of a game anytime and resume right from there. You don't need to worry about finding save points.
4. Use Cheat Codes and Mods
Many emulators come with cheat code support to make gameplay easier.
You can also mod games to add custom characters, levels, graphics etc.
5. No Need to Buy Expensive Hardware
Since the emulator software is free, you don't have to spend money buying the actual handheld console and games.
6. Play Online via WiFi Emulation
Some advanced emulators let you play online and access WiFi features by emulating the console's wireless connectivity.
As you can see, using a 3DS emulator opens up a whole world of opportunities for new and fun ways to experience your favorite 3DS titles.
Best 3DS Emulators for PC
Now that you know what 3DS emulators are and their key benefits, let's look at the best 3DS emulators available for Windows, Mac and Linux PCs.
1. Citra (Windows, Mac, Linux)
Citra is arguably the most popular and best 3DS emulator out there.
It is an open source project under active development that emulates a 3DS nearly flawlessly.
Key Features:
Plays all commercial 3DS games from Nintendo & others
Supports the latest 3DS firmware versions
Upscale to higher resolutions like 1080p
Customize controls & layout
Supports online play via WiFi emulation
Regular updates and improvements
Citra has excellent game compatibility and performance.
It is also quite user-friendly with customizable controls. This makes it the best choice for most users.
2. DeSmuME (Windows, Mac, Linux)
DeSmuME is a veteran Nintendo DS and 3DS emulator for PC with good compatibility.
Key Features:
Good compatibility with many popular games
Supports DS as well as 3DS games
Ability to upscale graphics
Save states and cheat code support
Frequent updates and bug fixes
While not as accurate as Citra, DeSmuME is a great alternative and runs many games quite smoothly.
It supports add-ons and plugins for enhanced features.
3. No$GBA (Windows)
No$GBA is a long-running Nintendo DS and 3DS emulator for Windows with good speed.
Key Features:
High performance and speed
Supports DS & 3DS games
Multiple emulation options and settings
DS multiplayer connectivity via WiFi
Runs homebrew apps and games
No$GBA is designed more for speed than accuracy. So some games may not work properly but it's fast.
The free version has some limitations that are removed in the paid version.
4. TronDS (Windows)
TronDS is a newer DS and 3DS emulator gaining popularity for its speed and frequent updates.
Key Features:
Fast performance with good compatibility
Upscaling to 4K resolution
Touchscreen input via mouse
Controller support
Automatic updates from within the app
TronDS is shaping up as a promising emulator option for Windows users wanting speed and a user-friendly experience. It's being improved steadily.
5. NeonDS (Windows)
NeonDS is a new DS and 3DS emulator for Windows designed to be user-friendly and accurate.
Key Features:
Good accuracy and playability
Clean user interface -Upscaling to higher resolutions
Save states and control binding
Automatic updates
NeonDS aims to provide an easy plug-and-play DS and 3DS emulation experience on Windows. It's improving with regular updates and shows promise.
Steps to Use a 3DS Emulator on PC
Here are the typical steps to start playing 3DS games with an emulator on your Windows PC:
1. Download and Install the Emulator
Go to the emulator's official website and download the software for your OS. Install it like any other app. Make sure your PC meets the minimum system requirements.
2. Get 3DS ROM Files
You need the 3DS game files (.3DS, .CCI, .CFI, .3DZ, .CIA) to load into the emulator. These game dump files can be found on various ROM sites online.
3. Configure Controls
Open the emulator, go to settings and configure your keyboard keys or gamepad buttons to control the 3DS games.
4. Load the 3DS ROM
Go to File > Open ROM and select your downloaded 3DS game file. The game should now load up.
5. Start Playing!
Enjoy playing the 3DS game! Use save states and cheats if needed. Tweak the visual settings for best performance.
It's quick and easy to get started playing 3DS games on a PC emulator. The process is basically the same for all popular emulators.
Common Problems and Solutions
Here are solutions for some common issues you may face with 3DS emulators:
Low Speed/FPS: Enable the JIT (Just-In-Time) recompiler in emulator settings for better performance. Check your PC meets system requirements. Update graphics drivers. Close background processes.
Games Crashing: Update your graphics drivers and emulator software. Try different emulator if a game crashes. Run as Administrator and turn off overclocking.
Blank/Black Screens: Use latest emulator version and make sure your GPU meets minimum requirements. Try software rendering if using hardware rendering.
Graphics Glitches: Update emulator and graphics drivers. Turn down 3D slider. Disable hardware shader to use software shader instead.
No Audio: Check if sound works in other apps. Update audio drivers. Enable audio in emulator settings. Change audio backend to DirectSound or OpenAL.
Properly configuring settings and meeting system requirements resolves most issues with 3DS emulation. Updated software and drivers help boost performance.
Frequently Asked Questions
Here are answers to some common questions about 3DS emulators:
1. Does 3DS emulation require a powerful PC?
A decent mid-range PC can handle 3DS emulation fine. Intel i3 or Ryzen 3 CPU, 8GB RAM and a discrete GPU like GTX 1050 or RX 560 is recommended. The faster your PC, the better performance you'll get.
2. Are 3DS emulators legal to use?
3DS emulators themselves are perfectly legal. Downloading commercial 3DS ROM game files online is legally questionable. You can create your own backup copies using homebrew methods.
3. Can I play 3DS games online via emulators?
Some emulators like Citra support online play by emulating the 3DS WiFi features. You can play online but there may be limitations.
4. Do all 3DS games work properly on emulators?
Most 3DS games work flawlessly but some push the hardware limits and may not run well on emulators. Compatibility is usually over 90% though.
5. Can I use real 3DS controllers with emulators?
Yes, some emulators allow connecting real 3DS controllers via wireless adapters or cables to use on your PC.
Conclusion
As you can see, using 3DS emulators on your Windows, Mac or Linux PC opens up an entire library of amazing 3DS games to play and enjoy.
From Pokemon and Mario to Zelda and hundreds more classics, there's no shortage of content and fun to be had.
With powerful modern PCs, emulators like Citra accurately recreate the 3DS experience in stunning HD visuals and buttery smooth frame rates. Online connectivity via WiFi emulation adds extra functionality.
So get your favorite emulator, explore the fascinating world of 3DS ROMs and dive into the action!
Immerse yourself in the brilliant 3D worlds of Nintendo classics right on your desktop or laptop. Let the portable fun begin!