Join the PCSynced Team!
Are you a tech enthusiast, a video editing wizard, or a skilled content writer looking for an exciting opportunity in the world of PC hardware and technology?
Look no further!
PCSynced.com is hiring talented individuals like you to join our dynamic team.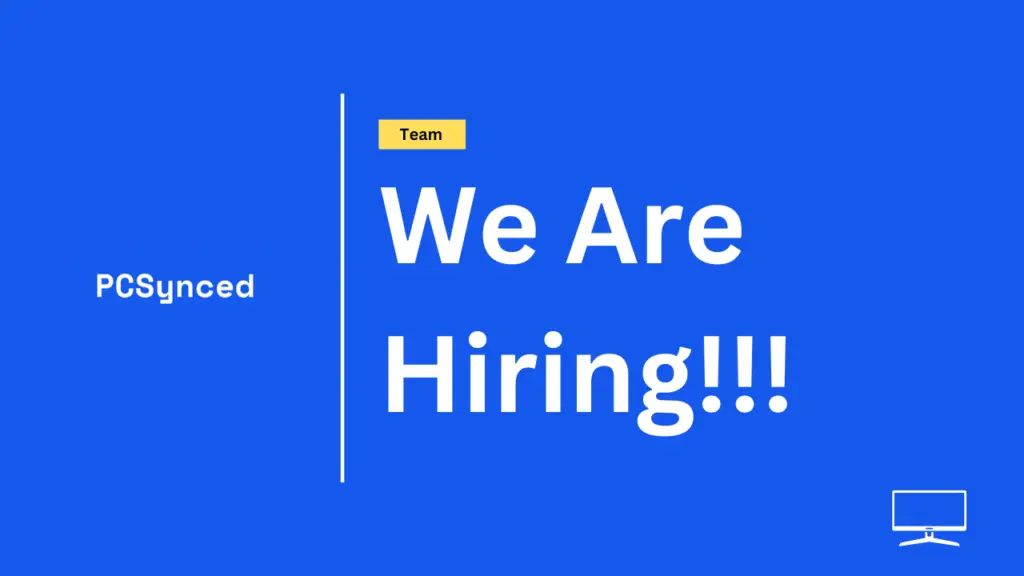 At PCSynced.com, we pride ourselves on being a hub of knowledge and expertise for PC enthusiasts around the globe.
As we continue to grow and expand our reach, we are seeking passionate individuals who share our love for all things PC-related.
If you're ready to dive deep into the world of PC components, explore the latest technological advancements, and create engaging content, we want to hear from you!
Available Positions:
Tech Geeks: Are you a hardware aficionado who loves to tinker with PC components? We are looking for tech-savvy individuals with a deep understanding of computer hardware, system building, and troubleshooting. As a tech geek at PCSynced.com, you can test and review the latest PC components, provide expert insights, and contribute to our comprehensive guides.
Video Editors: Are you a creative genius with a passion for visual storytelling? We are seeking talented video editors who can bring our content to life through compelling visuals and engaging narratives. As a video editor at PCSynced.com, you will be responsible for crafting high-quality videos, including product reviews, tutorials, and promotional content. Proficiency in video editing software and a strong portfolio of previous work are essential.
Content Writers: Are you a wordsmith who can transform technical information into clear, concise, and engaging articles? We are looking for skilled content writers who can produce informative and well-researched articles on a variety of PC-related topics. From hardware reviews to step-by-step guides, your words will educate and inspire our audience. Excellent writing skills, a keen eye for detail, and a passion for technology are a must.
Why Work with PCSynced.com?
Competitive Salary: We value your skills and expertise. We offer a competitive salary package that reflects the market standards and rewards your contributions.
Growth and Learning Opportunities: At PCSynced.com, we believe in fostering personal and professional growth. You'll have access to the latest PC hardware, industry events, and training resources to enhance your knowledge and skills.
Collaborative Environment: Join a team of like-minded individuals who share your passion for PCs. Collaborate, brainstorm, and exchange ideas to create innovative content that resonates with our audience.
Flexibility: We understand the importance of work-life balance. Enjoy a flexible work schedule that allows you to excel in your role while accommodating your personal commitments.
How to Apply:
If you're excited about the prospect of joining the PCSynced.com team, we would love to hear from you.
Please send your resume, portfolio (if applicable), and a brief introduction to [email protected].
Be sure to specify the position you're applying for in the subject line.
Please note that only shortlisted candidates will be contacted for further evaluation and interviews.
Join us on this thrilling journey as we continue to provide PC enthusiasts with the information they need to build, optimize, and elevate their systems.
Together, let's shape the future of PCSynced.com!