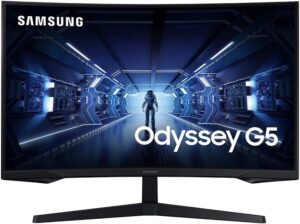 AMD FreeSync
144Hz Gaming
WQHD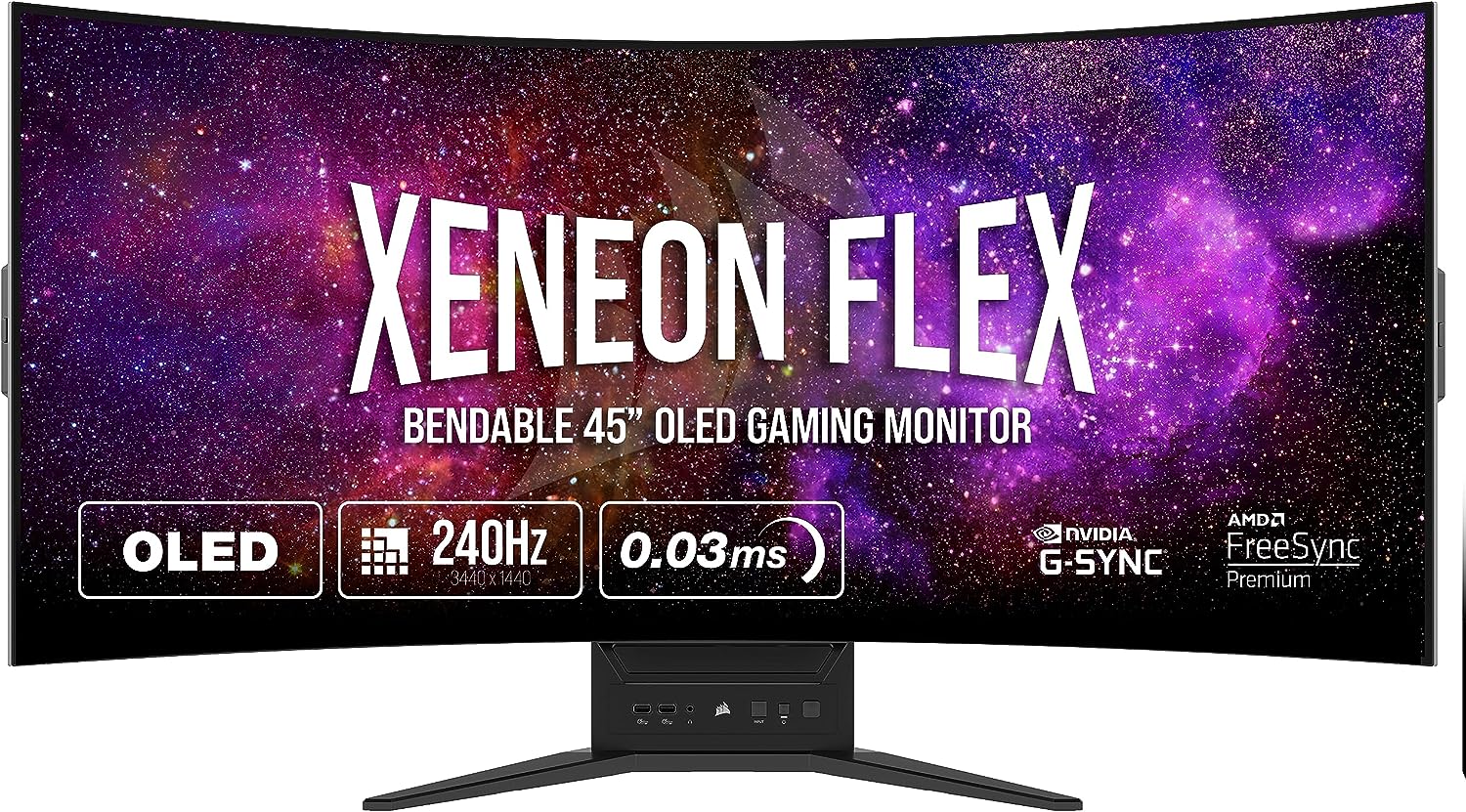 Corsair XENEON FLEX 45WQHD240
Ultra HD
Eye Care
Low Motion Blur
The Nvidia GeForce RTX 3060 Ti is one of the most popular graphics cards for gaming and creative work.
It delivers excellent 1080p and 1440p performance in the modern world.
You'll need a monitor that can keep up to get the most out of this powerful GPU.
I'll recommend 5 of the best monitors for the RTX 3060 Ti in 2023 in this buying guide.
I've picked options suitable for different budgets and needs – from affordable 1080p monitors to high-end 4K displays. Let's get started!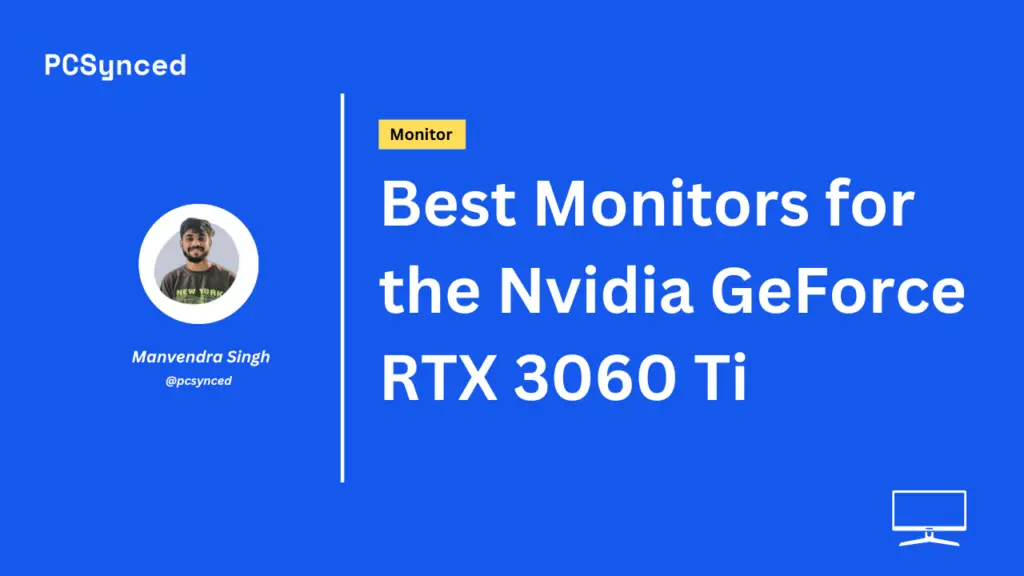 What to Look for in an RTX 3060 Ti Monitor
Here are some key things to consider when choosing a monitor for the RTX 3060 Ti:
1. Resolution
The 3060 Ti is well-suited for 1080p and 1440p gaming. It can also handle 4K in less demanding titles. Decide which resolution you want to game at.
2. Refresh Rate
Aim for a 144Hz or 240Hz refresh rate for smooth gameplay. This allows the monitor to display up to 144/240 frames per second.
3. Response Time
Look for a monitor with a 1ms response time to prevent ghosting and blurring in fast-paced scenes.
4. Adaptive Sync
Nvidia G-Sync or AMD FreeSync support matches the monitor's refresh rate to the GPU's frame rate. This eliminates screen tearing.
5. Panel Type
IPS panels offer the best color accuracy and viewing angles. VA panels boast fast response times and high contrast.
6. HDR
HDR support increases color depth and brightness for more realistic and vivid visuals.
Look for DisplayHDR 400 or VESA DisplayHDR 600 compliance.
7. Budget
RTX 3060 Ti monitors range from $200 to $800+ based on features, resolution, and panel quality. Set a budget that fits your needs.
With these factors in mind, look at the top monitor recommendations.
Resolution: 1920 x 1080 | Refresh Rate: 144Hz | Response Time: 1ms | Panel: IPS
If you plan to game at 1080p, the Asus TUF Gaming VG249Q is an excellent choice for the RTX 3060 Ti.
It combines a fast 144Hz refresh rate and 1 ms response time with an IPS panel.
The IPS screen produces vibrant colors and wide 178° viewing angles. You'll enjoy crisp, fluid gameplay thanks to the fast refresh rate and FreeSync variable refresh rate support.
The monitor also supports HDR for brighter colors and has a fully adjustable stand.
With ELMB sync, you can enable motion blur reduction for even clearer motion clarity.
The low input lag and Shadow Boost technology give you a competitive edge in fast-paced multiplayer titles. This 24″ monitor matches the 3060 Ti perfectly at full HD resolution.
2. LG 27GN800-B – Best 1440p Monitor for 3060 Ti
Resolution: 2560 x 1440 | Refresh Rate: 144Hz | Response Time: 1ms | Panel: IPS
For the ideal balance of screen real estate and performance, the LG 27GN800-B is the best 1440p gaming monitor for the 3060 Ti. It provides sharper visuals than 1080p without being too demanding.
You get LG's excellent Nano IPS technology for wide viewing angles and beautiful colors that stay accurate even at an angle. The high 144Hz refresh rate ensures flawlessly smooth motion clarity.
With a super fast 1ms response time, input lag is imperceptible. This keeps gameplay feeling responsive even in competitive online multiplayer.
AMD FreeSync Premium support eliminates tearing and stuttering for seamless gameplay.
For HDR, this monitor is VESA DisplayHDR 400 certified. The borderless design is modern and immersive.
Connectivity includes HDMI and DisplayPort as well as a handy USB hub. Overall, the 27GN800-B hits the sweet spot of price and performance at 1440p.
3. Dell S2721DGF – Best Value 1440p Gaming Monitor
Resolution: 2560 x 1440 | Refresh Rate: 165Hz | Response Time: 1ms | Panel: IPS
The Dell S2721DGF provides a premium 1440p 165Hz gaming experience at a more affordable price point. It's an excellent value pick for the RTX 3060 Ti.
This monitor packs all the essential gaming features. You get an extremely fast 165Hz refresh rate that can be overclocked up to 175Hz. With the quick 1ms GtG response time, scenes render smoothly with minimal display blur.
AMD FreeSync Premium Pro provides variable refresh rate support for smooth, tear-free visuals.
Thanks to the wide color gamut IPS panel and 99% sRGB coverage, the color reproduction is fantastic. This monitor is also certified as Nvidia G-Sync compatible.
For connectivity, you get two HDMI ports and a DisplayPort along with a handy USB 3.0 hub.
The customizable RGB lighting on the back can match your setup's theme. Overall, the S2721DGF delivers premium performance and features at a mid-range price.
4. Samsung Odyssey G7 – Best Curved Monitor for 3060 Ti
Resolution: 2560 x 1440 | Refresh Rate: 240Hz | Response Time: 1ms | Panel: VA
Featuring an aggressive 1000R curve, the Samsung Odyssey G7 is the most immersive gaming monitor for the RTX 3060 Ti. The curved VA panel envelops your peripheral vision for a truly engaging experience.
With a blistering fast 240Hz refresh rate, gameplay is impossibly smooth.
The 1ms response time eliminates ghosting and smearing even in fast-paced FPS games. Nvidia G-Sync and AMD FreeSync Premium Pro support variable refresh rates for tear-free visuals.
The VA panel delivers incredibly vivid colors with deep blacks. Thanks to the HDR600 spec, brightness can reach up to 600 nits for stellar contrast and dynamic range. The CoreSync lighting ambiance syncs with your game's colors for extra immersion.
For connectivity, you get DisplayPort 1.4 and HDMI 2.0. The unique infinity core lighting on the back matches your setup's style. With its curved design and lighting immersion, the Odyssey G7 takes gaming to the next level.
5. LG 27UP850-W – Best 4K Monitor for RTX 3060 Ti
Resolution: 3840 x 2160 | Refresh Rate: 60Hz | Response Time: 5ms | Panel: IPS
While the RTX 3060 Ti isn't a powerhouse 4K card, it can still manage less demanding games at 4K resolution. The LG 27UP850-W is the perfect fit, providing sharp Ultra HD visuals at an affordable price.
This 27″ IPS monitor supports 4K at a 60Hz refresh rate. While not optimal for competitive gaming, it provides super detailed, ultra crisp images in single player titles and productivity workloads. The 99% coverage of the sRGB color space produces accurate and vibrant colors.
The monitor supports HDR10 for vivid contrast and Advanced Display Stream Compression. You also get AMD FreeSync support for a smooth variable refresh rate experience. The virtually borderless display is ideal for multi-monitor setups. Connectivity includes HDMI and DisplayPort.
Overall, the LG 27UP850-W lets you experience 4K gaming and content while taking full advantage of the RTX 3060 Ti's capabilities at this resolution. It provides a balance of visual fidelity, features, and value.
Buying Advice for the Best 3060 Ti Monitor
When buying a monitor for the RTX 3060 Ti, follow these tips for the best experience:
Focus on 1080p or 1440p monitors to make the most of the card's power. 4K is also viable for non-competitive gaming.
Look for a 144Hz or faster refresh rate, and a 1ms or lower response time for smooth gaming.
Seek out adaptive sync support (Nvidia G-Sync or AMD FreeSync) to eliminate screen tearing.
IPS panels offer the best all-around color and viewing angles. VA panels offer faster response times.
HDR support starting with DisplayHDR 400 provides brighter, more vivid colors and contrast.
Add a curved ultrawide monitor for maximum gaming immersion. The 3060 Ti can handle this resolution well.
Pick between basic monitors starting under $300, or splurge on a high-end display with more features.
Following these guidelines will help you select the perfect monitor and create an awesome gaming setup using the Nvidia RTX 3060 Ti graphics card. Time to take your PC gaming experience to the next level!
Frequently Asked Questions
Ques 1: What resolution should I choose for a 3060 Ti build?
Ans: The RTX 3060 Ti is well suited for smooth gameplay at resolutions up to 2560 x 1440. It can also handle 1080p (1920×1080) easily.
A good 1440p monitor around 144Hz to 165Hz for most users offers the ideal combination of sharpness and performance.
Ques 2: Is a 3060 Ti good enough for 4K gaming?
Ans: The 3060 Ti can play less demanding games at 4K, but won't manage high frame rates in newer AAA titles.
4K gaming is possible, but a more powerful card is recommended for the optimal experience. For 4K, a monitor at 60Hz is a sensible fit for the 3060 Ti.
Ques 3: Do I need a monitor with G-Sync or FreeSync?
Ans: A monitor supporting Nvidia G-Sync or AMD FreeSync is highly recommended.
These adaptive sync technologies match the monitor's refresh rate to the GPU's frame rate output for a smooth, tear-free gaming experience.
It helps eliminate stutters and screen tearing.
Ques 4: Is a curved or flat monitor better for gaming?
Ans: This comes down to personal preference. Curved monitors wrap around your field of view more immersively, making them better suited for gaming.
However, flat monitors are more versatile and better for productivity work.
A curved display is recommended if you primarily want an ultra-immersive gaming monitor.
Ques 5: Is a 1ms or 5ms response time better for 3060 Ti gaming?
Ans: A lower response time results in less motion blur and ghosting, which is important for fast-paced games.
A 1ms response time is ideal, but even 5ms or less is sufficient for casual gaming.
Since the 3060 Ti excels at 1080p and 1440p gaming, a 1ms response time monitor is recommended.
Ques 6: What panel technology should I look for in a gaming monitor?
For gaming, you generally want to look for either a quality IPS or VA panel.
IPS panels offer the best all-around color reproduction, viewing angles and color consistency.
VA panels boast faster response times and higher contrast, but colors are less accurate at off-angles. Both are great options to pair with the RTX 3060 Ti.